Demands of youth ministry in a digital age explored at national conference in Florida.
DAYTONA BEACH, Fla. — If zombies attack, Vic Pruett will be ready.
The Florida minister jokes that he has a smartphone application that will help him fight back.
"I do love my smartphone," said Pruett, who preaches for the Holly Hill Church of Christ, north of Daytona Beach. "I've got a map app, a running app, a calculator app, a movie listing app, a weather app, a level and measuring app, Bible apps, news apps and game apps, of course."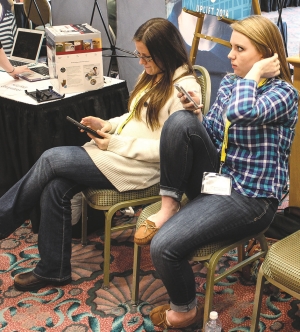 At the conference, Emily Hudkins and Michalie Brown catch up on their messages. (PHOTO BY BOBBY ROSS JR.)
Unfortunately, Pruett hasn't found an app to make him a better husband and father or cause him to be faithful, honest and righteous, he said during the National Conference on Youth Ministries.
The advantages — and limitations — of technology were among the topics explored as nearly 400 youth ministers, vendors and speakers from 26 states and Canada gathered at the Hilton Daytona Beach Resort.
From Pruett's "There's an App for That" presentation — focused on the fruits of the Holy Spirit — to Ultimate Escape ministry director Steve Holladay's session on "Hook-ups, Sexting and Porn," the recent conference reflected the changing realities of youth ministry.
"They're plugged in. They're technologically equipped," Houston Heflin, a ministry professor at Abilene Christian University in Texas, said of today's teens.
Heflin, author of "Teaching Eutychus: Engaging Today's Learners with Passion and Creativity," addressed a roomful of youth ministers.
His topic: "New Apps and Teaching Tricks to Help Students Learn."
For example, Kinsley Sells likened an online video curriculum that her Tennessee congregation uses to a "church-based Netflix."
"We have access to hundreds of lessons directed at students, and all this information is just one click away," said Sells, youth minister for girls at the Hillsboro Church of Christ in Nashville. "God has given us technology to further his kingdom, and I hope and pray that we use it to strengthen and guide the next generation."
At the same time, a gadget-carrying group of teens seemingly more connected — and more distracted — than any generation in history challenges youth ministers such as Charlie Sells, Kinsley's brother.
"Taking up phones on a Wednesday night has become a necessity," said Charlie Sells, who serves the Holland Park Church of Christ in Simpsonville, S.C. "Texting, Snapchat and checking social networks keeps them distracted, and we have to be more intentional about getting students to focus in for just an hour or so."
With smartphones, teens can carry the Bible everywhere — in the form of an app, Pruett said. But the same devices can present a constant temptation.
- See more at:
http://www.christianchronicle.org/article/igods-and-other-devices#sthash.w4uMY2lm.dpuf