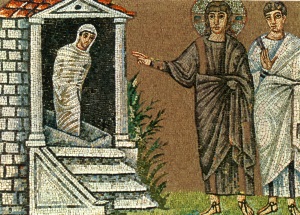 Our Sumer Series theme this year is "Resurrections," and we are studying the resurrection stories from the Old and New Testaments. Last Wednesday night Paul Johnson did a wonderful job with the raising of Lazarus from John 11, and Jamie Griffith pointed out that at that resurrection event we experience the Humanity and the Divinity of Jesus. This is certainly true.
The raising of Lazarus is an unprecedented and unduplicated miracle in that Lazarus had been dead so long his body was decomposing. The entire resurrection event was stage-managed by Jesus to provide a climax to his public ministry – demonstrating His divine control over life and death. There was a crowd there that day that had made the short, two-mile walk from Jerusalem and who carried the report of the miracle back with them. What the crowd also saw that day was the humanity of Jesus – because they saw Him lose control over his emotions, they saw him shudder and shake, and weep because of the pain his friends were suffering.
In fact the experience of Jesus as simultaneously human and divine is the goal of John's gospel, because it is that experience that brings us life. Many other signs therefore Jesus also performed in the presence of His disciples which are not written in this book; but these have been written that you may believe that Jesus is the Christ, the son of God; and that believing you might have life in His name (John 20.30-31). "Life in His name" is a phrase we must give our full attention to. Jesus, the guy from Nazareth is, indeed, the Christ, the Son of God. John says he has chosen the signs included in his gospel because he is confident they will produce faith in Jesus as Christ, in Jesus as God. His expects nothing less than that we experience Jesus as Human and Divine simultaneously.
The first of the seven signs Jesus performs in his public ministry, the changing water to wine in John 2, accomplishes exactly this. It is simultaneously a story about a guy who has a disagreement with his mom (and who gives in to her anyway), and about a God who can change the molecular structure of matter.
This is, of course, how John and the rest of the apostles experienced Jesus every day – fully Human/fully Divine. This experience was not compartmentalized, broken up into times of Humanity and times of Divinity. Jesus was simultaneously their friend and their Lord, their brother and their God. He is ours as well, and John is fully confident that the Divine Word will sufficiently give us an experience equal to theirs (I John 1.1-4).
If Jesus is not fully Human he is not qualified to be our Savior. If He is not fully Divine he is not big enough to be our Savior (See Hebrews chapters 1-4). The writer of Hebrews makes clear that every time we pray, we experience Jesus as simultaneously Human (tempted in all points like we are – 4.15), and Divine (without sin, full of mercy, able to help – 4.15-16).
This, of course, is how He is able to reconcile us to God, because He is simultaneously us and God. God is fully contained in Jesus' body (Colossians 2.9), and in Him we are made complete (Colossians 2.10).
The beauty of John's gospel is that he doesn't just explain the theology, he tells us the story. By putting us in the moment when Jesus went from crying to demanding "Lazarus, come forth!" we know subjectively, personally what Paul and the writer of Hebrews explain objectively, theologically. It is this lived experience that produces life-giving faith (John 20.30-31).
This is why we need time with Jesus – time every day in the gospels. Without the gospels we might have accurate facts, but we will not have life.