For God so loved the world, that He gave His only Son, that whoever believes in Him should not perish but have eternal life. John 3.16

Love is patient and kind; love does not envy or boast; it is not arrogant or rude. It does not insist on its own way; it is not irritable and does not keep a record of wrongdoing; it does not rejoice at wrongdoing, but rejoices in the truth. Love bears all things, believes all things, hopes all things, endures all things. I Corinthians 13.4-7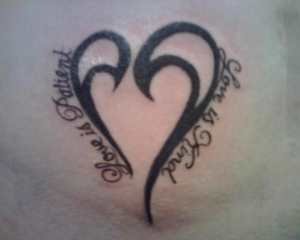 Readers of the Bible, even casual ones, know the verses above and love them. Even non-believers are affected by the depth, the poetry, the sublimity of them. I had a student once, an avowed atheist (not an agnostic, he made clear) who had I Corinthians 13.7 tattooed on his right bicep in Greek. I asked him why, and he replied that the words are beautiful, and true. He is right. They are.
He took these beautiful, true words to use as a mantra, a talisman, a slogan, a decoration for his body the way my mother used to buy decorations for the house at Home-Interiors parties. I think we are, at times, guilty of the same reduction. We like to see these words on posters at football games, read as liturgy in wedding ceremonies, embroidered on quilted Bible-covers. Familiarity with them has not bred contempt, but cliché.
We treat these verses the way we treat Norman Rockwell paintings or poems by Robert Frost, enjoying the warmth and nostalgia they induce the way we enjoy comfort-food, completely ignoring the darkness they contain. But isn't such a response a form of self-gratification? And isn't indulgence in self-gratification a rejection of the essential truth about love communicated in these verses.
The subtext of the verses above is that Love is hard. Love costs. Love hurts. Because God loved us Jesus had to die. Being patient assumes that patience will be tried. Keeping no record of wrongs assumes that there will be a laundry list of wrongs to be forgotten. Bearing all things assumes there will be much to bear. Enduring all things assumes there will be much to endure. And yet we are persistently surprised when loving relationships hurt, or cost, or require sacrifice and effort.
And often we become resentful – resentful of the one we love, resentful of Love, resentful of God – because He is Love, and because He has allowed things to be thus. Maybe we would never admit such resentment to others – even to ourselves – but our bitterness, our cynicism, our negativity are clearly evident to all. This resentment is not only evident, but contagious.
Such disappointment with each other and with God is immature. It is nothing more and nothing less than childishness – the product of selective listening, or not listening at all. "If you clean your room you may have a cookie," our Father has said, and we only hear the part about the cookie. God has said that to love is to sacrifice, to love is to hurt, to love is to endure. He has told us with words and with deeds because He has endured, and hurt, and sacrificed His very Self.
Indeed, if we really listen, we understand that this is not the subtext of the verses above but the text itself - the very thing that gives love value. What other quality has such strength, such power to last, to overcome? Only love.
Faith, Hope and Love – these three are eternal, but the greatest of these is Love.
I Corinthians 13.13