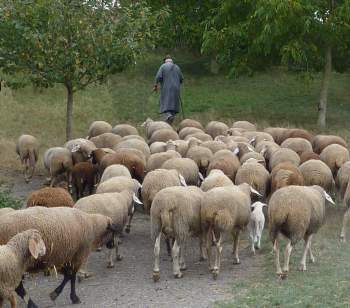 There is a line from the play "All the Way Home," (James Agee's A Death in the Family adapted for the stage - I don't remember if the line is in the book), which I shall never forget. A family is visiting relatives, especially a grandma severely debilitated by strokes. She has lost the ability to walk, talk, or feed herself. She is holding a little girl's doll, and when the little girl gets the doll back the grandma cries out in protest. "All she knows is that something's been taken from her," her caretaker explains. Indeed.
I probably remember that line so clearly because the first time I saw the play the grandmother was portrayed by Ellen Corby (Grandma Walton), who looked like MY grandma. My grandma also suffered a series of strokes and bit by bit her abilities were taken from her. Worse than losing the use of limbs, though, was the loss of identity. With every stroke layers of her personality were sheared away until all that remained of the feisty, intelligent, accomplished woman she was, was a little girl whose father didn't want her. The one memory that remained clear, and sharply focused was the moment she overheard her father saying to someone that he despised her. Was that the most deeply imprinted event of her life?
The one story I often heard from my grandfather's childhood was the night when, as a four year old, he was taken in the middle of the night to hug his mother goodbye. She was dying from childbirth. But – in his little diary of memories that he wrote for me, the seminal story he tells is of a time when he had to clean out the cistern on the farm. He was just a boy, and they didn't have a ladder long enough so his father cut down a tree with plenty of branches to hold him, tied a rope around him, and sent him down. He was terrified at first, but his father kept reminding him that he was holding on to the rope. He writes:
Once again Poppa showed me his wisdom. The lesson I learned that day helped me to remember something about God and the importance of holding on to Him. When Poppa gave me the rope it connected me and Poppa together – the one that I depended on and trusted to get me out of the cistern. We must remember to hold on to God, and not let go, and He will pull us home to heaven.
I can't imagine tying a rope around a boy and sending him to the bottom of a cistern – the thought horrifies me. But three generations separate me from my great-grandfather. Nor can I imagine sending a boy out alone to shepherd and defend a flock of sheep when there are bears and lions about to threaten the flock. But that is exactly what Jesse did with his son David. When Samuel came to anoint one of Jesse's sons king, David was the unlikeliest of the bunch because he was the baby – still "pink" and "beautiful" (I Samuel 16). And yet he had to be called in from the countryside where he was watching the flock alone. While there, alone with his sheep, the boy David did have to face a lion and a bear (I Samuel 17.35-36). But the thing that remained with him, that which imprinted itself on him most deeply, was not fear, or abandonment, but the sense that he was not alone. What remained most deeply imprinted on David was the sure feeling that God is always present – that He cares, He provides, He directs, He protects. David writes:
The Lord is my Shepherd; I shall not want. He maketh me to lie down in green pastures. He leadeth me beside the still waters. He restoreth my soul: he leadeth me in the path of righteousness for his name's sake. Yea, though I walk through the valley of the shadow of death I will fear no evil: for Thou art with me, Thy rod and Thy staff, they comfort me. Thou prepareth a table before me in the presence of mine enemies: thou annointest my head with oil; my cup runneth over. Surely goodness and mercy shall follow me all the days of my life: and I will dwell in the house of the LORD forever. Psalm 23 KJV
This was the memory most deeply imprinted on David – knowing, in the face of so many fears, that he was not alone. It can be that which leaves the deepest mark on us as well.