Details

Written by Barry Bryson
Category: Newest Article
Published: 24 July 2015
Hits: 19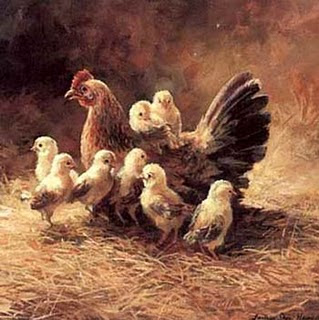 God consistently chooses the masculine personal pronoun to describe Himself. Yahweh is a He. The Holy Spirit is a He. The Son is a He. To His people He is a Father. I John 3.1: See how great a love the Father has bestowed upon us that we should be called children of God; and such we are. I Peter 1.17: And if you address as Father the One who impartially judges according to each man's work, conduct yourselves in fear during the time of your stay upon the earth. God is our Father. We are His children.
While we use Bible words for Bible things, we also understand from the Bible that God transcends any human categories. His image cannot be contained by then. Male and female together reflect the image of God (Genesis 1.27). Whereas it would be wrong to ever refer to God as "She," we understand that "He" doesn't contain all that God is.
There are times – more than we have noticed, I think – when God uses feminine metaphors to describe himself, either directly or through inspired writers. This is true in both Old and New Testaments. These feminine metaphors fall into three categories. First, there are passages where God describes Himself as a mother hen. Second, there are passages where God works inside the womb to form a child. Finally, there are passages which extol the maternal care that God provides.
God describes Himself as a mother hen. In You my soul takes refuge, in the shadow of Your wings I will take refuge till the storms of destruction pass by Psalm 57.1. How often would I have gathered you children together as a hen gathers her brood but you were unwilling Matthew 23. 35. All those biblical references to us taking cover beneath the wings of our God are references to a mother bird, and particularly a mother hen guarding her young.
God is active in the womb. For you formed my inward parts, and knitted me together in my mother's womb Psalm 139.13. Before I formed you in the womb I knew you Jeremiah 1.5. Adam was formed in a manner different from the rest of creation. Galaxies and elephants, oceans and peonies were spoken into existence. But God formed Adam from the clay, and breathed into his nostrils the breath of life (Genesis 2.7). God was active in forming the substance of Adam, and invested Adam with life. So also for all of us - God is active in our mother's womb, forming us, and God gives us a spirit which returns to Him when our body expires (Ecclesiastes 12.7).
God provides us with maternal care. As one whom his mother comforts, so I will comfort you Isaiah 66.14. I have calmed and quieted my soul like a weaned child with its mother. Like a weaned child is my soul within me Psalm 131.2. God provides the love we get from our mother as well as the love we get from our father. In Hosea 11 he describes how he cared for Israel like a mother taking care of a toddler – holding Israel's hand, teaching Israel to walk, hand-feeding Israel.
God is our father. He says so over and over again. But that word, "father," is under siege. It is being emptied of its meaning for so many of us. Only a third of the children born this millennia will grow to maturity in the regular presence of a father. Add to those absent fathers, those who are abusive, inattentive, antagonistic, and cold and we understand the challenge we face sharing the message of His word. Such dire circumstances will create a longing for a loving father – a longing only God can satisfy. In order to reach everyone with the message of John 3.16, God describes His love for us as maternal as well as paternal.
And so we cannot misunderstand. He loves us like a dad. He loves us like a mom. He is love.