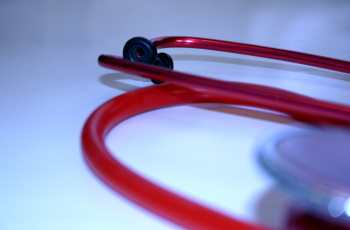 If you were in medical school what specialization would you pursue? It is not an easy question. With physicians putting in longer hours, paying ever escalating insurance premiums, and sinking in a thickening swamp of bureaucracy, choosing the right specialty might make the difference between an enriching quality of life, and a barely tenable one. I've heard from more than one budding doctor of medicine that ObGyn is definitely out - dermatology is the way to go. I don't know if this is, indeed, the specialty that promises the best life for an MD, I'll leave all comment on that issue to John Brady.
I do know that Doctors have a mission, a responsibility to heal, and take the oath of Hippocrates to that effect. I know that many of us owe our very lives to Dr. Brady, and others of his profession.
"Physician" always ranks high on the list of most trusted professions. "IRS Agent" does not. In ancient times, in fact until recently, doctors knew very little about why we were sick, and what would make us well – but people still loved, respected, and obeyed their doctors. In Jesus' day, tax collectors were not respectable civil servants, but private contractors who made most of their income by loan sharking. They were often the associates of the criminal class.
And yet we find Jesus passing by the tax office, and saying to the man behind the desk "Follow me," (Matthew 9.10). Surprisingly, the man follows. That man's name was Matthew, and he became an apostle, and the author of the very Gospel we are referencing. He is writing about his own conversion. Matthew wants to share Jesus with his associates, and he gives a dinner so they can all meet him. These associates are described by Matthew, himself, as "tax gatherers and sinners." Jesus has already given the Sermon on the Mount, and performed many well-known miracles. He is known to be a man of God. And so the Pharisees, representing the moral majority, demand to know why he has blundered so. Jesus' response is immediate, unapologetic, and unequivocal:
It is not those who are well who need a physician, but those who are sick. Go and learn what this means: "I desire mercy and not sacrifice," (Hosea 6.6). I did not come to call the righteous, but sinners.
I am quick to take pleasure in each time Jesus sets the Pharisees to rights, grinning a self-satisfied grin right through what he is saying to me. I am no more ready to share Jesus with "the tax-gatherers and sinners" than they were. I am if "sinners" means "nice folks who are theologically misinformed" - or perhaps, "respectable unbelievers." But if "sinners" includes the subset of criminals and fringe-types Paul describes in I Corinthians 6.9-11, or the kind of seamy individuals that gathered around Matthew's table, I have to admit, I'm closer to the Pharisees' view of things, than Jesus'.
Which, of course, is an admission of guilt.
We are commissioned to share Jesus. It is a sacred responsibility. To spend the bulk of our time and energy on ourselves, and not on the lost, is applying intensive care to the well, and a betrayal of the most basic mission of Jesus.