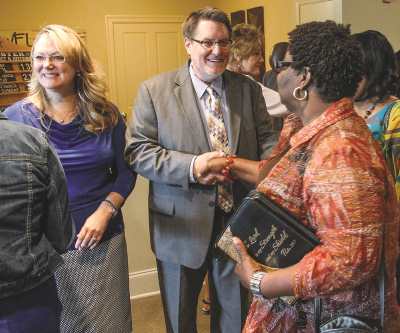 RIDGELAND, Miss. — Les Ferguson Jr. couldn't help but scream at God.
Why — the longtime minister demanded to know — didn't the Almighty protect his wife and son from the predator who murdered them?
In his darkest days, Ferguson couldn't imagine ever trusting in the Lord again, much less proclaiming the Gospel before a crowd of saints and sinners in a tree-shaded church building.
'THEY WERE JUST BEAUTIFUL PEOPLE'
For Les and Karen Ferguson, Oct. 10, 2011, marked 24 years of marriage.
But that day, unimaginable tragedy shattered the family's world: Karen, 44, and son Cole, 21, were shot to death in the family's home. 
"They were just beautiful people," said Les Ferguson, then the minister for the Orange Grove Church of Christ in Gulfport, Miss. "My son struggled his whole life with disabilities. He was frustrated and hurt a lot, but he was a good boy. He wanted to do right, and he loved God. He loved to sing, even if nobody else understood what he was saying."
Les Ferguson Jr. preaches on faith and doubt at the Lake Harbour Drive Church of Christ in Ridgeland, Miss. Yet on a recent Sunday, that's exactly where he stood — preaching on faith and doubt at the Lake Harbour Drive Church of Christ, a racially diverse congregation north of the state capital of Jackson.
"True confession time: There were mighty dark days," Ferguson told the 211 souls who filled the pews. "There were nights of questioning and wondering. There were days and nights, hour upon hour of screaming at God until I completely lost my voice and couldn't say another word."
But with the Lake Harbour Drive church, the modern-day Job has found his voice again and revived his calling.
"Les sat in Job's ashes for a while, accompanied by the kinds of doubts, questions and pain you might expect," said close friend Danny Dodd, who preaches for the Levy Church of Christ in North Little Rock, Ark. 
"Like Job, though, underneath it all was faith," added Dodd, who has known Ferguson since they were Magnolia Bible College roommates in the early 1980s. "That allowed God to continually work to bring about a personal resurrection of his joy, his family and his preaching and ministry gifts."
- See more at: http://www.christianchronicle.org/article/modern-day-job-preaching-again#sthash.9oUcGoxX.dpuf