In a Latino trailer park, Terry Davis pays his blessings forward.
NORCROSS, Ga. — Terry Davis found Jesus on a "JOY bus."
Growing up in a housing project on Atlanta's south side, Davis slept on the ground to avoid flying bullets.
"I still shake when it comes to bullets and sounds of the guns," said Davis, now 43.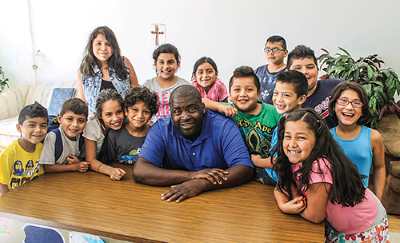 A group of Corners Outreach's homework club participants are all smiles as they pose for a photo with Terry Davis, the faith-based nonprofit's director. (PHOTO BY BOBBY ROSS JR.)
But the
East Point Church of Christ's
bus ministry showed him hope and a better way of life, he said, recalling that "JOY" stood for putting Jesus first, others second and yourself last.
Now director of a faith-based nonprofit called
Corners Outreach,
Davis treasures memories of the faithful Christians who invested time and energy in him.
These days, he pays his blessings forward in this northern suburb of Atlanta — with a predominantly Hispanic trailer park serving as his mission field.
"What makes Corners Outreach incredible is the comprehensive way Terry Davis and his co-workers have immersed themselves in the community," said Don McLaughlin, pulpit minister for the
North Atlanta Church of Christ.
From a Vacation Bible School-style summer day camp to an after-school homework club, Corners Outreach seeks to serve as "salt and light in a dark world" — as referenced in
Matthew 5,
ministry leaders said.
"Terry just wants the kids to succeed in life," said Ana Laura Solis, a mother of two and resident of the 207-unit
Norcross Mobile Home Village.
"There's a lot of gang activity, drugs and stuff, and he doesn't want our kids to go that way like most kids could."
- See more at: http://www.christianchronicle.org/article/a-bus-ministry-kid-gives-back#sthash.9fV3zYjf.dpuf