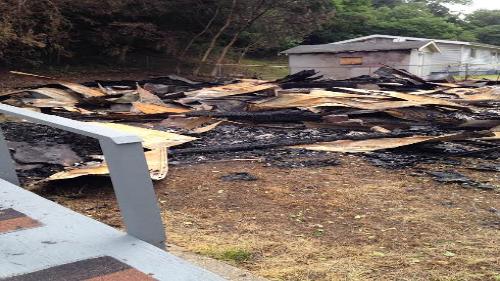 LITTLE CREEK, Ky (WYMT) - The community of Little Creek in Pike County is on edge following a fire at a more than century old church over the weekend.
Investigators are trying to piece together what caused the flames that burnt Yeager Church of Christ to the ground on Saturday.
Church members Sollie Compton and Clyde Stiltner cannot believe their community church is nothing more than a pile of ashes and twisted metal.
"It is terrifying. This was a historical landmark since probably 1840 or something. It is just a landmark for this community," said Compton.
Those who live nearby tell WYMT they learned about the fire around 7:00 a.m. On Saturday.
"I came down to check on it and by the time I got here, it was almost gone," said Stiltner.
On Tuesday, a representative from the State Fire Marshal's Office and a Kentucky State Police Arson Investigator were looking into the cause of the fire. Something Stiltner believes is suspicious.
"There was no power in the back room because the breaker to the lights cut the power to the back room," said Stiltner.
Compton believe someone did this to the church.
"We got surveillance cameras right up here above me that picks up anything that comes in and out of this hollow that is suspicious," said Compton.
Stiltner believes, if someone is responsible, they will be caught.
"Satan might have won that battle but we are going to overcome," said Stiltner.
He said they plan to rebuild the church in the near future.
"It is terrifying. It is just like you lost a part of your family," said Stiltner.