Dr. Kent Brantly, an Abilene Christian University graduate, served with an international relief agency in Liberia.
The Dallas Morning News reports:
FORT WORTH
- The mood at
Southside Church of Christ
on Sunday morning was somber and quiet. The congregation had just learned that one of its beloved members, a doctor working in Liberia, had tested positive for the deadly Ebola virus.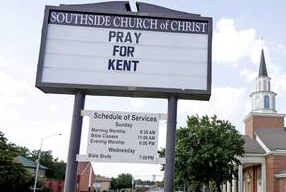 The sign at the Southside Church of Christ in Fort Worth, Texas, asks for prayers for Dr. Kent Brantly, a member of the congregation. (PHOTO VIA DALLASNEWS.COM)
Dr. Kent Brantly, 33, a family physician and father of two, has spent much of his life caring for others. He felt called to travel in October to Monrovia, Liberia, with an international relief agency, Samaritan's Purse, and started treating Ebola patients in June.
Even after he was diagnosed, he asked his home congregation for prayers not only for himself, but for his colleagues.
"He has such a compassionate heart," said Jason Brewington, a church member who worked with Brantly at Fort Worth's John Peter Smith Hospital. "Even in the midst of this, he's asking not just for himself, but for others." The Ebola virus was discovered in 1976. It kills 90 percent of its victims, who suffer from internal and external bleeding and organ failure. It is spread through infected bodily fluids such as saliva, vomit and blood. Doctors treating patients with Ebola wear Tyvek suits, latex gloves, surgical masks and eye goggles, but these precautions do not provide complete protection against the virus.
Photos of Brantly working in Liberia show him swathed head to toe in white protective coveralls, gloves and a head-and-face mask that he wore for hours a day while treating Ebola patients.
- See more at: http://www.christianchronicle.org/article/texas-doctor-with-ebola-a-church-of-christ-member-known-for-compassionate-heart#sthash.l9FB0WMH.dpuf
From the Southside Church of Christ:
We at Southside Church of Christ ars joining with thousends of others across the nation and the globe in earnest, heartfelt prayers for Kent Brantly and family.
We believe in the power of prayer. Therefore our prayers are fervent and constant on Kent's behalf.
People are asking if we believe in miracles. Our answer is 'YES.' An unqualified. "YES." We are praying boldly for divine intervention and healing.
Yet, our faith does not reside in miracles, Our trust and faith transcend what our eyes can see. Here in our world, we echo the apostle Paul that "...we see through a glass darkly..," (1 Corinthians 13:12, KJV).
In our self-absorbed culture of comfort and narcissism of America In 2013, It was a miracle that the Brentlys left the security of Fort Worth, the embrace of family and friends In the States, to go to a place that most couldn't find on a world map. Jesus foretold of a time when his disciples would leave home and go "...even to the remotest part of the earth." (Acts 1:8, NASB). Dr. Brenlly and femlly have become a living embodiment of Jesus' call to love, to teach and to serve.
Kent is ministering to '...the least of these..." (ttatthew 25:40, NIV) and therefore, a doctor to the Great Physisien Himself.
At this time of anxiety and yes, fear, we choose faith. Our hope is huge.
The age of miracles has not ceased, The Brentlys have already proven it so, by stepping into a place where many would not go. The call trumped the comforts.
The dark uncertainties of each tomorrow can never dim ",,.the Sunrise from on high" that, "...shines upon those who sit in derkness..." (Luke 1:78-79).
John Scott Minister of Transformation
DR. KENT BRANTLY
Thousands of people across the globe are joining in prayer with the family at Southside Church of Christ in Fort Worth for Dr. Kent Brantly. The earnest prayers are much appreciated.
Kents family covets these prayers and expressions of concern. The family has asked for privacy as Kent's story has become a global news story and the requests for interviews and information are overwhelming.
The Southside leaders have designated Kent Smith, one of the Southsíde elders, to be our acting spokesman.
Mr. Smith's number is 817-845-8079.
For Health Updates
contact Melissa Strickland
PR Person for Samaritan's Purse
828-719-0139