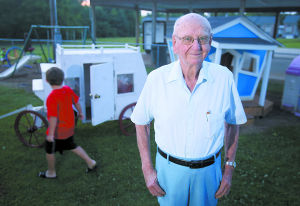 Allison Carter
Warren Davis stands in front of the stage coach he built for children at the Petersville Church of Christ. Vandals damaged the coach, but Davis, 90, quickly repaired it.
PETERSVILLE — When Warren Davis learned other members of Petersville Church of Christ were making wooden toys for the church playground, he wanted to join in.
"They were making a wooden train and I saw a stagecoach, so I decided that's what I would build," said the 90-year-old Davis, one of the oldest members of the church.
And he did.
"I am in awe of what he makes," said one of the church elders, Jim Goldy. "(Davis) just gets it in his head what he wants to make and he makes it. He has a special talent."
Goldy said he asked Davis about his plans when he was told about the stagecoach.
"He said he didn't have any plans. All he had was a drawing on an old piece of paper that he had made," Goldy said. "(Davis) had seen the coach in a magazine and decided he could make it. And like everything else, he did."
Since his wife of 63 years, Claudia, died four years ago, Davis said, he spends a lot of time in his shop making things.
"I enjoy being out there in the shop. One of these days I'm going to have to clean it out. I've got wood shavings everywhere," he laughed. "It's a good outlet for me. It keeps me busy."
Davis said it took him 2-3 days to make the coach.
"I love to see the children have fun out there in the playground playing on the toys," Davis said. "They seem to have a big time out there."
Goldy said the playground came about after discussions in the church.
"We have had a preschool here for 23 years," he said. "The children really didn't have a place to go outside and play.
"We talked about it and we built a playground. We started out with swings and a few things were donated, but it just needed more."
A wooden train Goldy saw outside a business on a trip to the beach inspired him to do the same at the church.
"I came back, talked to some men in the church about it, and then we found the plans online and we built it," Goldy said. "We built the locomotive, and before we were finished we ended up with the entire train. Then we built a truck and a tilted house, which has come to be called a crazy house.
"Then Warren got involved and built the stagecoach and it all came together."
A few weeks ago some of the wooden toys, including the stagecoach, were damaged.
"It broke our hearts when it was damaged, but Warren got out there and fixed it so the kids could continue having it to play with," Goldy said.
Church officials said the playground was built for the younger children of the church and the community to enjoy. but apparently older kids are getting in and playing on the toys, tearing them up.
"I don't know what happened to the coach, I went ahead and fixed it so the children could get back to playing on it again. They seem to like it so much," said Davis, a retired crane operator with the Tennessee Valley Authority.
Over the years, Davis said, he has made wooden bowls, lamps and other items including a wooden backhoe for his grandchildren and even a wooden water wheel.
"I dream up the idea, then try to make it happen," he said. "It's a hobby and I love it.
"Seeing those children playing, laughing and having fun is what it's all about."
So, what's next on Davis' building agenda?
"I don't know. I'm sure something will catch my eye and I'll have to try to make it," he said, laughing.