April 30, 2014 — Displaced residents from Monday's deadly storm are flocking to the designated Red Cross shelter at Central Church of Christ in Athens where more than 30 people have sought assistance, officials said today.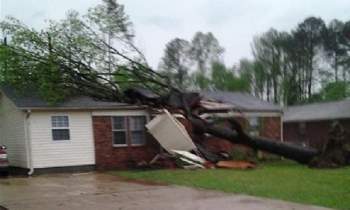 On a bright and blustery afternoon only 48 hours removed from an EF3 tornado that killed two residents and injured at least 17 people in Limestone County, a man stood at the church entrance, repeatedly saying, "This is God's house and He's not going to let anything happen to it."
Bill Perkins, a senior minister at Central, is overseeing volunteer operations at the shelter since it opened at 10 p.m. Monday. He said different groups of 16 to 17 people stayed overnight Monday and Tuesday.
Perkins said a majority of the survivors coming through are from the Lee-Hi and Billy Barb's Court mobile home parks and a Quinn Road apartment complex in the devastated Coxey community, which was visited this morning by Gov. Robert Bentley.
Red Cross worker Bryan Chu, a member of the disaster action team and a trained storm spotter, said he expected about 30 people to stay overnight Wednesday.
With supplies such as bottled water, nonperishable food and clothing already being donated, officials said the biggest need for survivors are Wal-Mart gift cards for properly fitting clothing and other necessities. Toiletry items and pre-packaged snacks are also high in demand.
The church, located at 320 U.S. 31 North in between Limestone Chapel Funeral Home and Athens Stadium, has about 100 volunteers working shifts to staff the baby and toiletry dispensary, registration table, nurse's station, plus staging areas for clothes and food.
The shelter parking area is accessible by turning off U.S. 31 onto Alabama 251.
For more information about Red Cross assistance, call 256-536-0084 or visit http://www.redcrossrelief.org.
To find out ways to join the relief effort, contact the United Way of Athens-Limestone County at 256-233-2323, http://www.unitedwayathenslimestone.com or 419 S. Marion St. in downtown Athens.