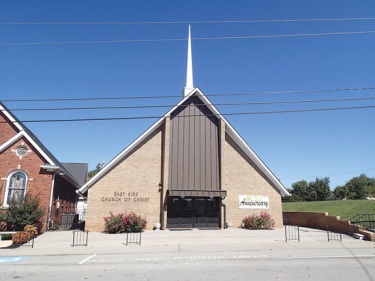 East Side Church of Christ
East Side Church of Christ buildings are laid out in an E shape. The oldest building, the center leg, was built in the 1930s. With the exception of some changes to the facade in the 1950s, not much has changed. Banner photo, DAVID?DAVIS view slideshow (5 images)
http://www.clevelandbanner.com/view/full_story/23820167/article-100th-year-marked-East-Side-Church-of-Christ-is-still-growing--expanding?instance=home_features
East Side Church of Christ celebrated the 100th anniversary of its formation Sept. 29, and the growing congregation will mark another centennial milestone in 2016.
While it is not the oldest Church of Christ in Bradley County, it is the oldest in Cleveland.
Writings of the first preacher, W.C. Phillips, show the formation of the congregation.
"About 1913 Brother J.M. Carl came to Cleveland. The Carls came from Nashville where they had been accustomed to attending church every Sunday. Since there was no church in Cleveland, they got busy rounding up the few members that were here … The membership consisted of Bro. and Sis. Carl, Bro. and Sis. Jake Richmond, Brother Hardy, my wife [Roxie] and myself, seven of us in all."
East Side preacher Jeff Archey said when the Carls moved to Cleveland, they sought where there might be a Church of Christ.
"They ran across Brother W.C. Phillips and his wife, Roxie. Brother Phillips held tent meetings around the area to establish churches of Christ," Archey said. "They met on Sept. 29, 1913, in what is now Stampers Furniture. It was a lodge hall. They met upstairs."
The following was recorded in the East Side personal record book:
"On September 29, 1913, less than a dozen members met … to worship as the scriptures direct and erected the first organization of the church of Christ in Cleveland, Tennessee."
Archey, who has preached at East Side since 2002, recently gave a brief historical outline of the church's history.
The East Side congregation purchased property in 1916 at its present location for $200 after meeting its first three years in various places. They met in a lodge hall across from the town square (above the current Stamper's furniture); the former Inman Street Baptist Church building (formerly located just east of the current CapitalMark Bank and Trust building).
"When Inman Street Baptist Church sold that property, I think they met in the courthouse a little bit," he said. "It was about a two- to three-year period that they met in different places."
In 1916, they came out of town and bought a small parcel on 35th Street from Emery Mason, the great uncle of the late David Crick and Roger Crick. The current address of the church is 252 Wildwood Ave. S.E. The property sits in a crook in the avenue and is bounded on the west and south sides by Cincinnati Avenue, S.E. and 4th Street.
"The man they bought it from was the great uncle of our Roger Crick, who attends here now," Archey said. "We still have a lot of roots going."
Sometime in the 1930s, the congregation built an auditorium in a small, square building, which now stands in the center between two later additions.
By January 1947, the adjoining corner lot on 4th Street was purchased and the house on it was removed. In 1949-50 the church building was remodeled and enlarged. Adjoining property was purchased in 1965 and again in 1969. In February 1971, the new auditorium with a seating capacity of just under 500 was completed.
"When the new auditorium was completed in 1971, the original auditorium was divided into six classrooms, which were ready for use in the autumn of 1971," he said.
In about 1986, a third wing was added on the corner of 4th and Cincinnati streets, which consists of fellowship hall, offices, restrooms and four additional classrooms.
In 2004, additional property was purchased across the street for future parking and in 2005, the house on the corner of 4th Street and Wildwood Avenue was purchased for parking.
"Our next expansion plans are underway," he said. "We will have a 2,400-square-foot addition on the Wildwood Avenue side of our current auditorium. It will consist of restrooms, adequate space for our little ones in their training and two overflow areas for our crowds, as needed."
It could be 2019 or 2020 before the $400,000 to $500,000 expansion happens.
Archey said the church continues to grow and attendance increases during all periods of worship and Bible study.
"It all began 100 years ago because of a desire to simply worship God "as the Scriptures direct."
He said there exists a beautiful thread of faithful families that continues onward at East Side.
"Our first preacher was Brother W.C. Phillips," he said. "Two of his great-granddaughters, Allison Chancey and Veleri Hyberger, attend here now.
"As a little girl, Allison and Valerie's grandmother, Bonnie (Phillips) Hyberger, hauled rocks in a wagon to help lay the foundation for the first auditorium.
"Another one of East Side's first elders was Stephen E. Randolph. His granddaughter, Wanda Ledford Smith, attends East Side with several members of her family, who still worship as the Scriptures direct."
Read more: Cleveland Daily Banner - 100th year marked East Side Church of Christ is still growing expanding