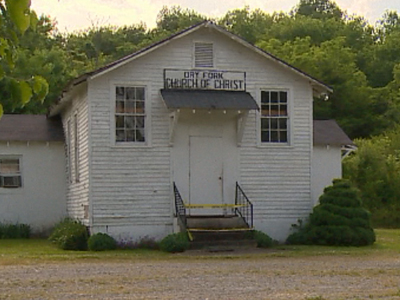 HAMPSHIRE, Tenn. - It's a place where people come to worship, but police said they're investigating why a mid-state church became the target of vandals, even starting a fire inside.
Investigators said they will be looking at whether this was a prank or something much more serious at Dry Fork Church of Christ.
In a town like Hampshire, Tennessee, church is more than just a place of worship.
"Dry Fork Church of Christ was established in 1850 and we presently have served in this location since 1973," said Shirley Green, who has been a member of the church her entire life. "Our parents and grandparents went here and now our descendants are here."
The congregation was shocked to find their church had become the target of vandals.
Green was one of the first to see the damage. The trash can had grass and sticks inside, and it appeared a fire had started in two areas of the hallway.
However, Green said it appears something changed the vandal's plans.
"They tried to put out the fire; they put paper and stuff in the sink and the commode. That's when I knew this was no random act."
"I hope whoever did it will realize what they've done," said Green. "We've already forgiven them."
Maury County Sheriff's Detectives said they're investigating this incident.
They said there's no evidence to believe this was a hate crime, but it's not something they've ruled out.
Email: This email address is being protected from spambots. You need JavaScript enabled to view it.This email address is being protected from spambots. You need JavaScript enabled to view it.Facebook.com/NC5JanetKimThis email address is being protected from spambots. You need JavaScript enabled to view it.Twitter.com/NC5_JanetKim