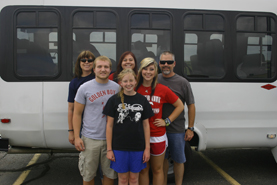 The Westside church of Christ is sending a team to work with Mission Upreach in Santa Rosa de Copan, Honduras. The three high school graduates, who are members of the Westside church of Christ are on their way to Honduras along with their preacher and his family and others. This team is going as a part of a ministry called Disciple Trips. Disciple Trips is a ministry out of Lubbock which takes young people on short term summer mission trips.

This team from Seminole will be joining a team of 32 individuals for a week of work in Honduras. The team will be conducting Vacation Bible Schools, holding a youth rally, working in a hospital and a children's home as well as constructing a church building.

"This is my second year to go to Honduras for short term mission work," said Ray Young, minister of the Westside church of Christ. "It is a great opportunity to serve some of the poorest people in the world. It is incredible to think our team will have an incredible impact on the lives of so many people in just one week. Not only will lives in Honduras be changed, the lives of each person who goes on this trip will be changed in significant ways!" Young calls it, "A life changing... people blessing... hard working... Gospel teaching... children loving... church building... Kingdom growing time in Honduras."

The elders of the Westside church decided to give their graduating seniors an opportunity go on such a trip if they wished, and thus get a taste of foreign mission work. All three of this year's graduates accepted the challenge. The elders hope to make this a yearly event.

The Westside team consists of, Kylee Weeks, daughter of Wes and Rhonda Weeks, Colton Wheeler, son of Dean and Melanie Wheeler, and Raegan Young, Daughter of Ray and Sonya Young.

Raegan graduated from Denver City High School where she stayed to finish high school after her dad took the preaching job in Seminole.

Ray Young, his wife, Sonya, and their older daughter Katelynn, a recent graduate from AIM, (Adventures in Missions) a part of Sunset International Bible Institute in Lubbock will accompany the three graduates on the trip.

Other team members include people from Seagraves, Lubbock, Midland, Weatherford and Fort Worth, as well as members from Albuquerque, New Mexico and some from Ohio.

They left Seminole Thursday afternoon, July 17th, with plans to drive part of the way to Houston. Friday they will meet the rest of their team at the Jersey Village church of Christ. They will received final instructions for their work in Honduras, and do some team building activities.

Members of the Jersey Village church were to house the team Friday night, and they are to depart from Houston at 9:00 this morning, Saturday the 19th, and, "will hit the ground running." The team will return on Saturday the 26th.

Please pray for their successful trip.